Rominger Home Inspections
North Carolina Residential Inspections  
When Quality Counts
We've Helped 5,000+ Buyers and Sellers
Rominger Home Inspections is proud to help Hickory Metro Area residents find the right home. Since 2007, we've assisted more than 5,000 buyers and sellers. Our skilled home inspector draws on his 25 years of experience in the construction industry to provide a thorough analysis you can rely on. Because of our background, we are able to give our valued clients a ballpark estimate of any necessary repair costs, along with offering advice regarding your future remodeling plans.
Our Home Inspections Service Menu
Our service menu combines our inspector's 37+ years of construction and home inspection experience. We believe that quality work is a must, and we utilize the best industry equipment and tools to help produce each home inspection report. Our home and commercial inspection services include:
Buyer's Home Inspection
Pre-Listing/Seller's Inspection
New Construction Inspection
Re-Inspections
Radon Testing
Water Testing
Mold Inspections
Commercial Buildings/Property Inspections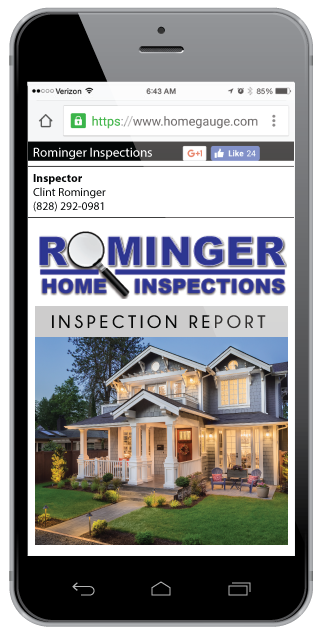 Create Request List™ Makes Life Easier for Buyers
HomeGauge's Create Request List™ is a tool that comes free with every home inspection report! This convenient online tool makes it as easy as a click of a button to start creating a repair list that can be used in your home repair addendum.

Special Discounts and Scheduling Options
We believe that the process of scheduling a home inspection should be simple. Therefore, we've built our scheduling options around this core principle. When it's time to book your appointment, you can benefit from: 
Weekend appointments are available upon request.
Pay for your appointment online!
We're here to answer any questions you may have about your report. Call any time!
Receive $25 off your home inspection service by paying upfront with cash or check.
Experience & Continual Education Make Us the Right Choice
We understand that the home inspection industry is constantly evolving, and that's why we take continual education seriously. Our home inspector supplements his 12+ years of inspection experience and 25+ years of construction experience by taking regular continuing education classes. This allows us to stay at the top of our game and helps ensure highly accurate inspection reports.
Our Service Area
Rominger Home Inspections is based out of Hickory, NC. We're dedicated to providing high-quality home inspections for the entire Metro Area and more, including Catawba County, Mecklenburg County, Iredell County, Caldwell County, Burke County, and Alexander County.